User:Austio888888
From Homestar Runner Wiki
(Difference between revisions)
(a little fix up)

Line 1:
Line 1:
-

<div class= style="background-repeat: none; background-color: #F3F6FA;text-align:center;">

+

<div class=style="background-repeat: none; background-color: #F3F6FA;text-align:;">

-

<div style="cursor:crosshair">

+

<div =":">

-

<span style="font-family:Aarco-; color: red; font-size: 40px;">'''Austio'''</span>

-

<span style="font-family:Aarco-; color: yellow; font-size: 40px;">'''[http://www.mindistortion.net/iwantyoursoul/?i_am=Austio888888 click here if you dare]'''</span>

+

<span style="font-family:Aarco-; color: ; font-size: 40px;"

+

 

+

 

+

>'''[http://www.mindistortion.net/iwantyoursoul/?i_am=Austio888888 click here if you dare]'''</span>

-

<div class="MainPageWhatsNewBox" style="background-repeat: none; border:1px solid #1C58A3;padding: .5em 1em 1em; color: #000; background-color: #F3F6FA;text-align:left;">

-

<div class="text-align:left">

{{userboxtop}}

{{userboxtop}}

{{userbox|border=#000000|mainbkgd=#FFF|msg=<table width="100%"><tr style="background:#E0F5E1"><td align="center">&nbsp;</td></tr><tr><td align="center"><span style="font-family:Courier New, monospace">'''> [[Special:Emailuser/{{PAGENAME}}|Click here]] to'''</span></td></tr><tr style="background:#E0F5E1"><td align="center"><span style="font-family:Courier New, monospace">'''email this user'''</span></td></tr></table>}}

{{userbox|border=#000000|mainbkgd=#FFF|msg=<table width="100%"><tr style="background:#E0F5E1"><td align="center">&nbsp;</td></tr><tr><td align="center"><span style="font-family:Courier New, monospace">'''> [[Special:Emailuser/{{PAGENAME}}|Click here]] to'''</span></td></tr><tr style="background:#E0F5E1"><td align="center"><span style="font-family:Courier New, monospace">'''email this user'''</span></td></tr></table>}}

Line 46:
Line 46:

So if you see any of these names on any websites It's probably me.(note: I havn't been to neopets, runescape, or newgrounds since the beginning of July 206 except neopets that was at least 1 year before the other ones.)

So if you see any of these names on any websites It's probably me.(note: I havn't been to neopets, runescape, or newgrounds since the beginning of July 206 except neopets that was at least 1 year before the other ones.)

+
+
+

==My Sbemail==

==My Sbemail==

Check out the email I sent Strong Bad this week.

Check out the email I sent Strong Bad this week.

Line 58:
Line 61:

Crapfully Yours, Flamer8965

Crapfully Yours, Flamer8965

</blockquote>

</blockquote>

-

-

==H*R Personality Test==

-

http://i135.photobucket.com/albums/q123/Flamer8965/HRQuiz.jpg

==Stuff I Like Other Than H*R==

==Stuff I Like Other Than H*R==
---
Revision as of 07:56, 31 December 2006
Austio
click here if you dare
HRWiki:Userboxes
| | |
| --- | --- |
| KID | This user is 12 years old. |
| | |
| --- | --- |
| RIGHT | This user is right handed |
| | |
| --- | --- |
| | This user's favorite character is Strong Bad AKA-Professor Tor Coolguy. |
| | |
| --- | --- |
| | This user's second favorite character is The Cheat. |
| | |
| --- | --- |
| | This user's third favorite character is Trogdor. |
| | |
| --- | --- |
| | This user's favorite Chapman is Matt. |
Welcome
Hello I'm Austio888888 or just Austio for short. So check out my Userboxes to see more info on me. I've been here awhile and know a lot about H*R Wiki. So if you have any questions or just want to say something to me go here.Also I love Strong Bad because of his hilarious attitude.
How I Came To Love H*R
I believe I came across homestarrunner.com when a young friend of mine came over with some funny dvds he called them. Those dvd's were Everything Else 1 and all four sbemail dvds. After watching First Time Here? I wondered if the website actually existed and wouldn't you know it did. Then, after watching every episode at least twice I looked on wikipedia and found HR Wiki thus bringing me here.
Contributions
You can see all my Contribs right HERE
My Odd Username
I've had many other usernames on pretty much all cool websites some of those names are.
Flamer8965 origin- neopets (3 years ago)
Austio888888 origin- runescape (2 year ago)
DarkcloudClock origin- newgrounds (2 year ago)
So if you see any of these names on any websites It's probably me.(note: I havn't been to neopets, runescape, or newgrounds since the beginning of July 206 except neopets that was at least 1 year before the other ones.)
H*R Personality Test
I took an H*R personality test and below are the results, but some of it's not true (example: I don't think everyone is "crap for brains"). I don't remember what website a got it from, but all you have to do is google Homestar Personality Test and you'll find plenty of tests.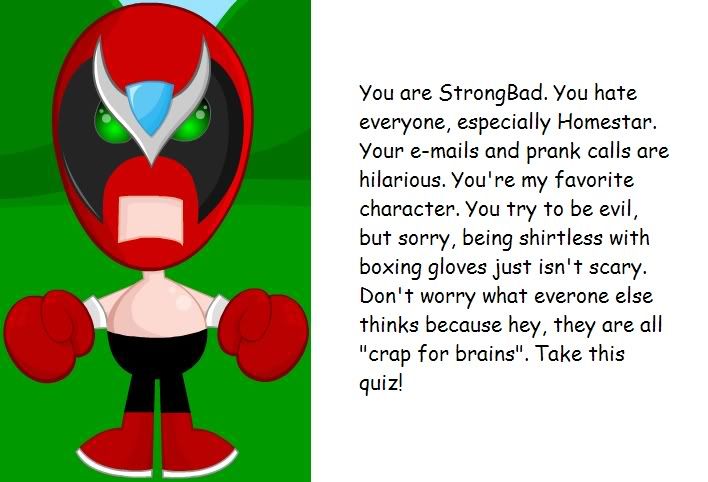 My Sbemail
Check out the email I sent Strong Bad this week.
(I send a new one every Sunday)
Pom Pom

Dear Strong Bad,

What is the most advanced piece of technology Pom Pom has because I always see him with some kind of electronic device.

Crapfully Yours, Flamer8965
Stuff I Like Other Than H*R
I like other things other than H*R and these things are...