Talk:Strong Bad Evolution
From Homestar Runner Wiki
Its being started by Piscez, but anyone can help. The format I'm using is high quality jpgs, 250 pixels tall (variable width) and cropped tightly around the character. Individual images for each version of the character, so they can be shuffled around on this page as it grows.
Okay, maybe 250 pixels is too large, but lemme get the page all formated and I can change that later.

Looking good, pnihill2000. - [[User:Drhaggis|Dr Haggis]] 19:46, 26 Nov 2004 (MST)
Yo. What happened to the Yello Dello version of Strong Bad? -Miss Free Country USA
Horrible images/request for improvement
What's up with all the externally-linked-to JPGs? They look horrible and certainly don't follow the standards. And most of the other character evolution pages follow this same poor trend, like Homestar Runner Evolution. Those JPG artifacts give me the jibblies. Anyone up for some better screenshot taking? -- Tom 18:08, 12 Dec 2004 (MST)
I'm on it. But I'll have to thumbnail some of these images. Is 150 pixels a good size? --Upsilon
This size of the images you upload really doesn't matter. They'll be thumbnailed by MediaWiki when they are on the page. This really helps even the table out too. See Halloween Costumes and Floppy Disk Container for examples. -- Tom 13:46, 18 Dec 2004 (MST)
Didn't Strong Bad get changed again slightly at montage?
Yes, I noticed that too. His face design did change slightly in that email. Look: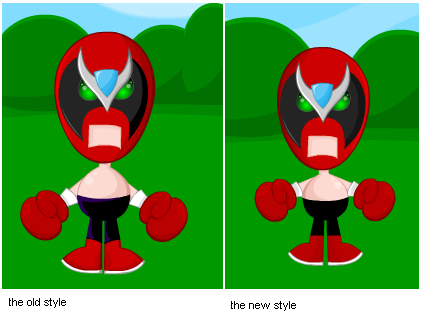 I can exactly pinpoint what's different, but somethin's different. -Princess of StrongBadia